Cast: Lee Pace, Troy Garity, Shawn Hatosy
Director: Frank Pierson
Synopsis: Based on a true story, Soldier's Girl follows a love story that develops between a transgender woman named Calpernia Addams and a soldier, PFC Barry Winchell.  The film takes place in 1999 when the United State's military still had the "Don't Ask, Don't Tell Policy".  When other members of PFC Winchell's infantry find out about his relationship with Calpernia Addams, he is subsequently beaten to death.
The performances given by all of the actors in this film are brilliant.  However, I must make special mention of Lee Pace, who played Calpernia Addams in the film.  Soldier's Girl  was Lee Pace's first film role and he lost 25 pounds in order to play Calpernia Addams.  Pace also had to wear prosthetic breasts and hips to successfully portray a transgender woman.  His transformation is unbelievable: 
 (Lee Pace, Source: theonering.net)
(Lee Pace as Calpernia Addams)
I'll admit that this film made me weepy, and that it affected me greatly.  The fact this is someone's real story, at it's very core, a story about human connection and love. That she fell in love with a man, and then that man was murdered for loving her back is a very tragic scenario.  I would strongly encourage anyone, no matter your belief system, to watch this film because it is a magnificent example of the struggle that the LGBTQ community still faces today.
The real Calpernia Addams:
The real PFC Barry Winchell: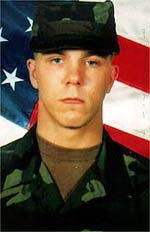 (Source: HuffingtonPost.com)
liyung0248 likes this
samsonismydog likes this
anqnqn likes this
irias-mind likes this
morphin-three likes this
fatulousbitch reblogged this from sheimdb
maymay930 likes this
genderedhere likes this
cristinabean reblogged this from sheimdb
soft-kisses-and-whispers-of-love likes this
gedebe likes this
sheimdb posted this